Seamstress Jobs in Accra Ghana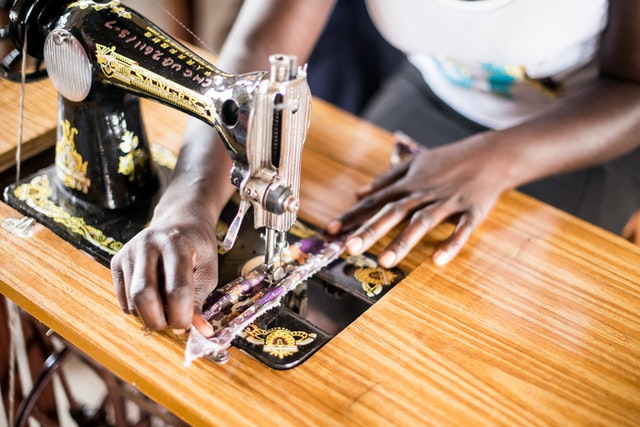 Looking for seamstress jobs in Accra, Ghana? Do you love making and wearing African clothes? AdwenPaKouture.com is always hiring talented seamstresses and tailors to join our team. If you have experience and have a great personality, explore career opportunities and apply now. Fill out the application online and discover the possibilities.
Our ideal candidate has the experience and skills to operate an industrial sewing machine and produce well-made products. You also need customer service skills to work with clients during fittings. It is essential that all clothing alterations and repairs are of high quality and completed on time.
Seamstress Duties and Responsibilities
Take measurements
Follow patterns to manufacture apparel and other pieces
Assist with client fittings
Sew styles according to order summary specifications
Complete clothing alterations
Make repairs
Requirements and Qualifications
High school diploma or equivalent
Experience operating an industrial sewing machine
Understand which fabric types are best suited for certain styles
Must be able to take measurements
Must be able to size clothing correctly
Excellent sewing skills
Detail-oriented
Customer service skills
A great adwenPa Kouture seamstress should be familiar with making various popular African styles and fabrics, specifically Ghanaian styles and various Ghanaian fabrics and textiles.  With that, you should be familiar with some combination of the following.
Sewing seams
Stitching seams
Sewing symmetrically
Matching fabric types
Matching colors and patterns
Making men's kaftans
Making dashiki tops
Sewing tops and downs
Making wrap skirts
Working with mud cloth
Working with Kente
Working with
Sewing cloth buttons
Making special necklines, hems,
Sewing shorts, and trousers
Similar jobs: https://adwenpakouture.com/jobs/tailor-jobs-in-accra-ghana/ ‎
Interviews are conducted by NuBusinessSolutions.com